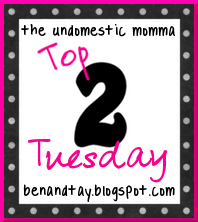 This weeks Top Two on the
Undomestic Momma
's blog is 2 things that you cant live without! I MEAN LETS BE REAL... my number one is of course is this precious little jewel(you cant be surprised)!
I know its annoying and before I was a proud iPhone user I thought it was annoying to hear everyone YAP about how AMMMAAAZZZIIINGG it was! Well I am hear to tell you that words cant describe how great this phone is. I do EVERYTHING on it (I wont give you the full love list I have with this phone-again)! I use to be a Blackberry user and every few months I had drama with that phone and it was just a big mess. I have had the iPhone for a year and had no problems, now that I say that it will probably blow up in my hands! I love it, its great, it sync's with everything at work and its just the best( its ok you can tell me to shut up now)!
My next thing I cant live without is my DVR! You might be asking yourelf "Why is she admitting this?" I have already come out and confessed my issues with TV, my exact words were "My name is Beth and I am addicted to reality TV"! I dont know what it is but it cracks me up and I think its funny that we can watch
fake,scripted, silly
random people in their daily lives all on TV. Without my DVR I couldnt keep up with...
The Baring Sea and the crab in Alaska on the Deadlist Catch.... Ah, I say this with sadness, RIP Captin. Phil!
The High Maintence Ladies of The Real Housewives of New York.
The Awkardness between the Judges on Idol... How weird do they look in this picture???
I mean who doesnt love watching people get on a scale and weigh in each week in the their spandex and flip flops on the Biggest Loser?
I cant miss watching the Guy from Kiss who enjoys playing dress up more then the girls that used to be in my class....
I mean I could go on for days about all the shows I watch! So with that said... I love my DVR! If I didnt have it I wouldnt be able to hold a full time job because I would miss my shows( and thats not an option)! If you are still reading at this point its a miracle! In my defense I fast forward thru the commericals :)