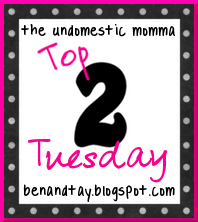 This weeks Top 2 on
The Undomestic Momma
is 2 Random things about myself! We all know I am random so this is going to be hard for me to only pick two!
1. I have had the same watch since I was in the 8th grade and I have never had to replace the battery! Can you believe that! I think about it all the time and I just cant believe it! Thats a long time to have the same watch! I have lost it 4 times and I always end up getting it back! I left it in my hotel room when I went to Vegas and the hotel mailed it back to me, its meant to be! I also lost it at Lipscomb once and a friend saw it in the lost and found in library and I got it back! The other 2 times I lost were at home and eventually found it!
I got this watch at Kohls and let me tell you its durable! It cracks me up(you asked for random so there you have it)!
2. This is more embarrassing than a random fact! I have an issue with making sure my car doors and the doors to my house are locked! BUT here is the kicker its only at night! You can ask my
neighbor
how many times she has come over and my keys are hanging in the front door or all the windows are down in my car! I am just going to lay it out there I can check the doors at least
50
5 times I bet and I have been known to run out to the car in the good ole' PJ's to check and to check to make sure the sunroof is cloesd! I dont know what it is but it bugs me! I cant tell you how many times I have almost been asleep and gotten up to check the doors- OH MY GOSH I NEED THERAPY!