This week on the
Undomestic Momma
the theme is my top 2 favorite magazines! I mean honestly I could do a weeks worth on magazines! I LOVE them! Here is the deal though I got A LOT(I'm not saying a number its embarrassing) but I don't have enough time to read them all! They are stacked up all over my house.... oh the magazine stress! If I HAVE TO pick two here is my picks....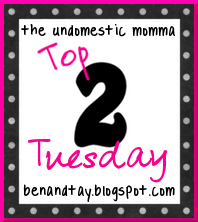 1. Of course I am going to pick the Celebrity Gossip Bible-People! I love it! Oh goodness look how sad Sandra looks! I am considering writing a post on Hollywood and affairs but I am very opinionated so it makes me a little nervous!!
2. I think my next favorite is Glamour! I always read this one cover to cover! Of course I chose the one with Miss. Spears on it, who doesn't love a little Britney(don't answer that)!
I cant do it... I cant only pick 2... so here are a few other faves!!!!
Ok I have to stop now or you all are going to think I am magazine crazy(I'm aware its to late for that)!!!
I also have to say that I just took my fish oil vitamin and its stuck in my throat and I just gagged at my desk- I hope this isnt a preview of what the day will be like!! YIKES!!!