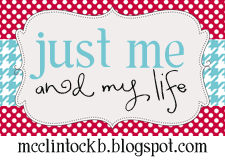 Its that time again! Thanks for playing along and dont forget to link up! This weeks Friday Fives is "Five Random Questions by Me" so here you go....
1. Are you a MAC or a PC???

I am a PC BUT I really do want to be a MAC- I am working on it! I LOVE my iPhone so I know that I would love a MAC so my next computer will be a MAC
2. If you could go anywhere on vacation this summer where would you go???

I am easy I just want to go to the beach! Giive me a beach chair,sunglasses, magazines and a book and I will be OH SO HAPPY! I told my SIL today that I am planning on coming down in July so I can have some beach time!
3. Which is your most cherished childhood memory?

Any of the times that I spent with my Pap-Paw- he taught us how to drive in his little red truck and everytime I went up to their house I BEGGED him to take me driving!! I loved it! He always had hope that I would Pay Attention!! So Fun! I miss my Pap-Paw more than anyone can ever imagine so I am very lucky to have so many AMAZING memories!
4. What were you doing the last time that you had a good laugh?

Oh goodness- I would say the other night when Kim and I were mistaken for looters in one of the flooded neighborhoods! So funny, you can read all about

here

!
5. What is your favorite book or magazine??(We need some beach read ideas)
We all know I love me some magazines! I really do love most books! I think one of my favorites are the Emily Giffin books or anything Sophia Kinsella!! They are just straight chick lit and they are perfect for the beach!
I am working on Junes Friday Five Schedule so hopefully I will get that up soon! Let me know if you have any ideas!!! Wish me luck its Garage Sale day lets hope I dont have to pack all this mess up to take to Goodwill!!!