1.If you could be on a show(talk show, game show...) which one would you pick?
I would love to be on Regis and Kelly- I watch that show everyday and they both crack me up!!
2. What was your first job?
My very first job at the ripe ole' age of 16 was at Longhorn Steakhouse, I was a hostess and it was a blast!!!
3. What's one of your guilty pleasure?
I would say a big stack of magazines, bubble bath and no time limit!!
4. Would you ever vacation alone?
Yes! I think it would be fun in the aspect of really seeing how the people live there. You are own you own and you decide where you go, eat... I think it would be excited! One day I will go to New York alone just so I can see...
I would go to Paris too....
5. Democrat, Republican, or Independent..or maybe even Green Party (whatever that is)?
Yay! I cant wait to read your answers so grab the button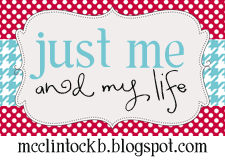 And link up!