I am not good at keeping secrets but I have a secret!!!!
I LITERALLY could bust trying to keep it in, its almost comical!
Its not really a secret but a suprise but I had to drop a hint on here that I even had a secret because I might not make it till I can tell!
Thats all I am saying....
Except that I might die from keeping a secret!!!!
I woke up thinking "oh think goodness its Friday"!
I get in the shower thinking "I dont think I could make it another day, Im so glad its the weekend"
In the shower and I heard them say something about the American Idol kick off show tonight!
BUMMER its only Thursday....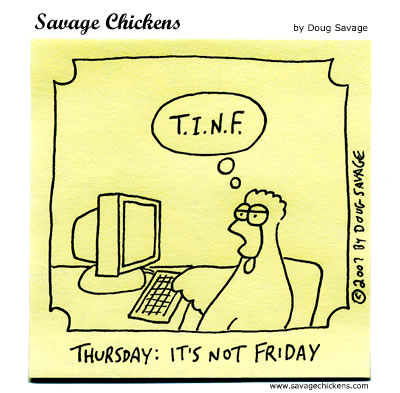 I have an idea for a TV show...
My brother owns his own landscaping business, you check it out here.
Anyways you ought to hear some of the stories that he has!
He talks about dealing with the competition to a lady who had a complete breakdown over the little flowers in her yard to dealing with snakes!
I wouls pay money to be able to watch him trying to deal with a crying elderly lady, I can only imagine!
I think the funniest story he has is when he was mowing the entrance of a neighborhood and he jumped off the mower to pick something up and the next thing he knows his mower is down on Lebanon Rd.(a super busy road) well of course he take off to get the mower in the now stopped traffic and WIPES OUT! I mean full on bites it in the middle of the road! I am laughing out loud thinking about i!
I am telling you TLC this could be a hit for you guys!
Im gonna end with this wonder?
Do you ever wonder why people listen to their ipods in the car?
I understand the radio might be broke but I saw a guy this morning driving a BMW with his shuffle clipped to is suit coat and he was singing away!
I tried to get a picture....
It didnt go well....
Ok, I lied I am going to end with this....
If you follow me on Twitter you have seen this
But there is a guy that stands on this bridge over the interstate every morning
He stands there a smokes and watches the traffic
He freaks me out!
Im 100% sure this morning we made eye contact!
One day when I get brave I am going to roll down my window and yell "DONT JUMP BUDDY ITS NOT WORTH IT" (dont worry I would never do that)!
I did get a picture!
How weird is that!!!