I feel like this is my first real post of the week!
Its been one of those weeks where I am doing things before work then go to work where its extremely busy then I race home and where I have a big ole' To Do list waiting on me!
I am not complaining because I am grateful for all the things that are going right now!
I got an email from my SIL this morning and she told me that my main man is about to be crawling!!
I cant believe how big he is getting!!
Sweet Angel!
Just FYI some were confused why I put this picture in my Yellow post and were asking if it was Tristan that it didnt look like him!
Yup that's him and I cant believe how big he is getting either!!
I got lots of comments and emails on my Yellow post, Thank You!!
And let me say now...
I dont have the Yellow TOMS but I do like them :)
I am 90% sure the owl is from Anthropologie..
I know the Soprano picture is weird but I love me some Tony and wanted him on my blog!
Yes that is JFK Jr.
NO I did not Photoshop the Rachel Zoe picture!
No I dont know the ballerina in the tutu picture.
YES I do wish that Anderson Copper would give me the yellow ring and I Could move to New York-Thank you Tiffany for being observant and picking up on that picture sequence!
Yes that is Jason Aldean
!
I am so making these this weekend!
Canola oil for frying
1/4 cup all-purpose flour
1/4 teaspoon kosher salt, plus more to taste
2 large eggs, li
ghtly beaten
1 1/4 cups panko (Japanese breadcrumbs)
2 firm-ripe avocados, cut into 1/2-inch wedges
1. Pour oil to depth of 1 1/2 inches in a medium saucepan or Dutch oven. Heat to 375° over medium-high heat.
2. Meanwhile, combine flour and salt in a shallow plate. Put eggs and panko in separate shallow plates. Dip avocado wedges in flour, shaking off excess. Dip in egg, and then dredge in panko to coat.
3. Fry avocado wedges, in batches, 30 to 60 seconds or until golden brown, and drain on paper towels. Place on a baking sheet in a 200° oven to keep warm while frying remaining wedges. Sprinkle with additional salt to taste.
Lets be honest I haven't been blogging because I have been mourning....
I just cant believe they broke it off!
If they cant make it then who can?
Please feel free to enter your own sarcasm!
Ole' Money bags here is playing the old cat and mouse game with American Idol!
She made $12 million dollars last season but now that they know it was a hit she wants more money!
Well when they are packing up they need to take this weiner with him (I am sorry I couldn't help it)!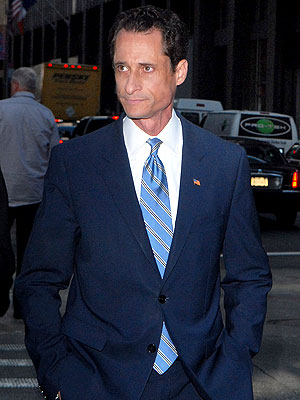 I have a feeling that this is the guy for Jennifer Anniston!
I think she has found the one-even thought I dont know who he is!