I mean has it really been a week and a day since my last post?
How in the world does that happen?
Granny had surgery last week and let me tell you she did AMAZING!
And her doctor was very handsome!
She is still not 100% but she is getting better everyday and I am so thankful for that!
I finally decided to order this fabric for my guest room...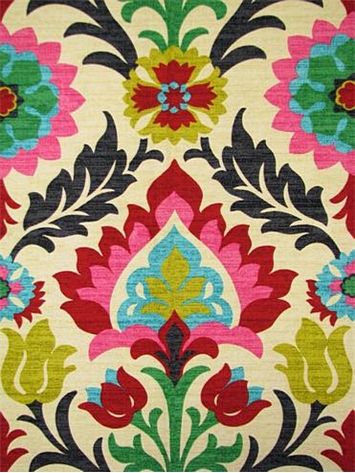 I kept going back to it and I broke down and got it.
Granny is going to make pillows with it an I am going to cover the desk chair with it.
I think it will be fun in there to have a pop of color!
I scored a new to me dining room table with 6 chairs and a dresser for $80!
I am going to refinish and dark stain the top of the table and paint the bottom and chairs grey-
I am making myself wait to start this until I RE-PAINT the dining room again....
I want my little bro to add crown molding in there before I paint!
Have I mentioned that I have the best brother around!
He hauled all my Craigslist around town for me on Saturday and then carried a solid cherry dresser in the house for!
Its about that time of the year for me to start convincing my Dad to get my Y membership again for the year for Christmas :)
I have been told by multiple people that my neighborhood gets a lot of Trick or Treaters!
Does anyone else stress that you dont have enough candy?
Something weird is going on with my Twitter account???
The Settings keep getting messed up and I am getting weird emails and stuff from Twitter???
Dont really know what to do about this because I keep changing my password but it keeps happening!
Thinking about doing a major cleaning of my Twitter account and just starting over :(
Had a girls night last night and I have to say I am lucky to have such good friends!
Here is Jayne getting ready to head out in the cold to roast her hot dog!
Thanks Mahoney for letting us come over!
Ok I have to end with a shout to my BELOVED city!
My sweet New York City...
We know that it will bounce back because it always does!
I hope everyone says a little prayer for everyone affecting by Sandy.